2019 Audubon Christmas Bird Count Summary, Augusta circle
Please note the following dates if you would like to participate:
Planning Meeting: Thursday November 21, 2019, 6:00 pm to 7:15-ish pm, Chestnut meeting room (formerly "West" Room – faces east towards the field – lower-tier entrance) at Viles Arboretum, 153 Hospital Street, Augusta. The purpose of the planning meeting is to review the big CBC circle map, assign territory leaders, discuss teams, and review CBC procedure. All are welcome to attend the planning meeting.
Count Day: Saturday, December 14, 2019
In case of need to postpone:
First alternate date is: Sunday, December 15, 2019
Second alternate date is: Sunday, December 29, 2019.
The Audubon Christmas Bird Count began in 1900 when Dr. Frank Chapman, founder of Bird-Lore – which evolved into Audubon magazine – suggested an alternative to the holiday "side hunt," in which teams competed to see who could shoot the most birds. 118 years of counting birds is a long time, but the program somehow brings out the best in people, and they stay involved for the long run. And so the tradition continues.
The Augusta Birding Club has been participating in the Christmas Count since 1970, typically finding over 5000 individual birds and 50-55 species on Count Day. Since 1970, the Club has counted over 275,000 birds.
Over 30 members of the Augusta Birding Club will fan out on Count Day to see and record as many birds as possible within a 15 mile diameter circle centered on the State House
2018 Audubon Christmas Bird Count Summary
Thanks to everyone who participated in the Augusta Christmas Bird Count on December 16 and special thanks to Cheryl Ring for her great CBC organizing. Thirty-two of us walked 32 miles and drove 725 miles, looking for birds within 7.5 miles of the Statehouse dome. The species total of 53 on count day was about average. We also had two count-week species, Barred Owl and Great Blue Heron. We had a couple new records for high counts and several species had much higher than average (count has been going since 1970). Species such as Eastern Bluebird and Red-bellied Woodpeckers continue to increase in our area in the winter. There were low numbers of a couple duck species likely because of the low amount of open water. For irruptive birds, we had a lot of Bohemian Waxwings and some Pine Grosbeaks but no Evening Grosbeaks or Common Redpolls. Rare or unusual sparrows for our CBC included White-Crowned, Chipping, and Fox. See all the numbers and counts below the next section.
Notable species/counts (alphabetically)
American Black Duck (2 of them), tied for second lowest count
American crow (15,615), by far the most ever, mostly because of the 15,000 crows coming into roost
Bald Eagle (47), 3rd highest year
Belted Kingfisher (3), tied for 2nd highest year
Bohemian Waxwing (305), 4th highest year
Chipping Sparrow (1), 3rd bird ever
Common Goldeneye (1), tied for lowest year
Eastern Bluebird (16), 3rd highest year
Fox Sparrow (2), 3rd year ever, first since 1999
Lesser Black-backed Gull (1), 5th year ever
Northern Cardinal (123), 4th highest year
Pileated Woodpecker (16), 3rd highest year
Red-bellied Woodpecker (9), 2nd highest year
Red-tailed Hawk (9), 4th highest year
Tufted Titmouse (149), highest year
White-breasted Nuthatch (176), 3rd highest year
White-crowned Sparrow (1), 3rd year ever, first on count day since 1977
White-throated Sparrow (26), 4th highest year
Wild Turkey (458), 2nd highest year
Complete list and numbers: Count Summary Report 2018, the column "Number" in the checklist part of the PDF is how many of each species we saw this year. The column "Max Number" refers to the entire 1970-2018 period for the Augusta CBC with the first number being the maximum recorded and the second number being the count year (2018 is Audubon count year 119). The "# Of Counts" column refers to the number of years that each species has been seen in the Augusta CBC (49 would be every year).
Since 1970 the Augusta Birding Club has counted all birds we can find in one day near Christmas, as part of Audubon's large international effort. Currently 30+ Birding Club members count birds in a 7.5 mile radius around the State House Dome. It's amazing what's out there when you look; we typically find 5000+ individual birds of 50+ species. We have counted almost 300,000 birds since 1970.
2017 Audubon Christmas Bird Count Summary, Augusta circle
Augusta CBC 2017 video by Curry Caputo (link to YouTube) See Andrea, Curry, and family on their 2017 CBC adventure: https://youtu.be/EhsS7-WlZ2U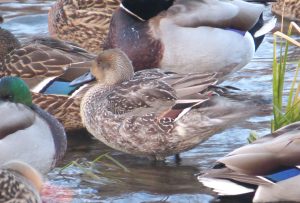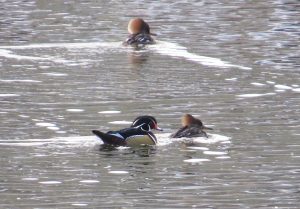 Augusta CBC coordinated by Cheryl Ring and Glenn Hodgkins