2017 Audubon Christmas Bird Count Summary, Augusta circle
Thanks to the 33 people who participated in our annual Augusta Christmas Bird Count on December 16, and especially to Cheryl Ring for organizing it and Tom Danielson for creating section maps. See highlights below, and the PDF link for counts of all the species below that. Also below is a video of the day's adventure and a couple of bird pictures from count day.
Overall 56 species on count day and 4 more for count week. This is a relatively high number for our count and we had a high number of total birds.

1st ever Rusty Blackbird (records back to 1970)

2nd Chipping Sparrow (1st since 1976)

2nd Northern Pintail (1st since 1995)

5th Hermit Thrush

6th Wood Duck

10th Barred Owl

Highest numbers

3 American Kestrel (1st since 1983)

2 Yellow-bellied Sapsucker (4th and 5th ever)

2955 American Crow

133 Tufted Titmouse

2nd highest numbers

3rd highest numbers

2 Belted Kingfisher

10 Red-tailed Hawk

131 Northern Cardinal

309 Dark-eyed Junco

Low numbers

Common Merganser

Great Black-backed Gull

Purple Finch (tied for lowest ever at 2)

7th year in a row with Eastern Bluebird, the first year was in 2006
In the Count.Summary.Report.Augusta.2017 file, the column "Number" in the checklist part of the PDF is how many of each species we saw this year. The column "Max Number" refers to the entire 1970-2017 period for the Augusta CBC with the first number being the maximum recorded and the second number being the count year (2017 is Audubon count year 118). The "# Of Counts" column refers to the number of years that each species has been seen in the Augusta CBC (48 would be every year).
Augusta CBC 2017 video by Curry Caputo (link to YouTube) See Andrea, Curry, and family on their 2017 CBC adventure: https://youtu.be/EhsS7-WlZ2U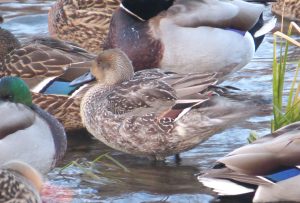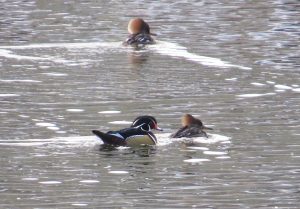 Since 1970 the Augusta Birding Club has counted all birds we can find in one day near Christmas, as part of Audubon's large international effort. Currently 30+ Birding Club members count birds in a 7.5 mile radius around the State House Dome. It's amazing what's out there when you look; we typically find 5000+ individual birds of 50+ species. We have counted over 275,000 birds since 1970.
Augusta CBC coordinated by Cheryl Ring and Glenn Hodgkins