ABC trips for 2017
All trips open to anyone, free of charge (gas costs for carpooling on long trips may be shared). Please check back periodically for changes and additions.
Regular May morning walks at Viles Arboretum, Hallowell Recreation Area, and Bond Brook Recreation Area to see migratory and resident birds are complete for 2017.
Morse Mountain/Seawall Beach, Sunday August 27th. Note change of time from original notice, based on recent bird sightings (switching our trip from low tide to high tide). 
Shorebird migration has already begun and we have set a date for our annual trip to Morse Mountain/Seawall Beach, in Phippsburg near Popham Beach. Meet at the Gardiner Hannaford store's parking lot at 1:45 pm to carpool, leaving no later than 2 pm,  or meet at the small parking area at Morse Mountain/Seawall Beach at 3 pm. Directions at: http://www.bates.edu/harward/bates-morse-mountain-shortridge/
Doug Suitor of the Mid-coast Audubon chapter and Augusta Birding Club has volunteered to lead this walk. Howard Lake will be the ABC trip coordinator. You can reach him at HLake@lakedenison.com if you have questions or concerns.

From the Morse Mountain parking area we will walk the 2 miles over gentle terrain through coniferous forests to Seawall Beach. There may be greenheads or other biting insects; dress appropriately. No dogs or bikes are allowed, just people walking. We'll spend our time on the beach looking at shorebirds. Last year, among the hundreds of expected shorebirds, we also had less common Pectoral and Western Sandpiper.
Bring your binoculars. Spotting scopes are good to have, and there will be at least a couple along that we'll share if you don't have one.
Bad weather date: If this walk needs to be postponed due to weather, we will walk instead on Sunday September 10th, same times.

We'll likely have a November trip to Sabattus Pond to look at migrating ducks.
We had a fun day of birding at Kibby Mountain on June 10th. Quite an adventure as you take a right just before Quebec and go 10 miles down logging roads to the trailhead. Fifteen of us made the trip.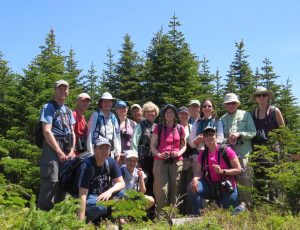 Despite the wind and the heat, which probably kept some of our target birds well hidden, it was a wonderful day for a fairly bug-free hike with some great people. The highlight for many of us was the very cooperative Mourning Warbler along the Gold Brook logging road. This is a difficult bird to find, let alone photograph. Another highlight was hearing Bicknell's Thrush at the top, amazing for the middle of the day and so warm and sunny. We had 35 species for the trip, including Blackburnian Warbler, many Blackpoll warblers (most heard, not seen), Swainson's Thrush, Philadelphia Vireo, Yellow-Bellied Flycatcher, and Rusty Blackbird.
Most trips coordinated by Cathie Murray and Mike Waters