Upcoming ABC trips for 2018
All trips open to anyone, free of charge (gas costs for carpooling on long trips may be shared). Please check back periodically for changes and additions.
Stay tuned for our 2018 trip schedule. We may have a winter duck trip to southern coastal Maine and we might have a winter-finch trip on the Long Falls Dam Road near Flagstaff Lake. It's supposed to be a good year for crossbills. In May we'll have our daily bird walks for migrants and locals. We'll have a boreal-bird trip in June, a shorebird trip to Popham or Seawall Beach in August/September and a Sabattus Pond trip in early November. If we get motivated, we may have more trips.
Selected Recent Completed Trips
We had a great day for our Morse Mountain/Seawall Beach on August 27th. Thanks to Doug Suitor for leading the trip. Highlights included a nice variety of species, including Northern Gannett flying offshore, Baird's Sandpiper, and large numbers of Sanderlings. For a full list and some pictures:
http://ebird.org/ebird/view/checklist/S38883903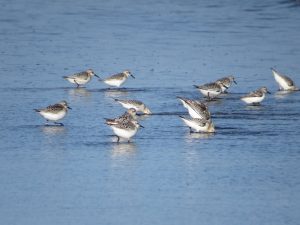 We had a fun day of birding at Kibby Mountain on June 10th. Quite an adventure as you take a right just before Quebec and go 10 miles down logging roads to the trailhead. Fifteen of us made the trip.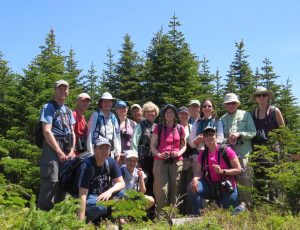 Despite the wind and the heat, which probably kept some of our target birds well hidden, it was a wonderful day for a fairly bug-free hike with some great people. The highlight for many of us was the very cooperative Mourning Warbler along the Gold Brook logging road. This is a difficult bird to find, let alone photograph. Another highlight was hearing Bicknell's Thrush at the top, amazing for the middle of the day and so warm and sunny. We had 35 species for the trip, including Blackburnian Warbler, many Blackpoll warblers (most heard, not seen), Swainson's Thrush, Philadelphia Vireo, Yellow-Bellied Flycatcher, and Rusty Blackbird.
Most trips coordinated by Cathie Murray and Mike Waters